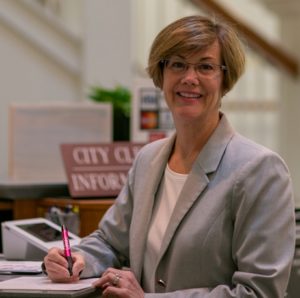 Effective, equitable city services
I will continue to build relationships with staff and council members and help facilitate smooth transitions throughout City Hall to help our city operate safely, efficiently and equitably.
We have taken several steps to make our city government operations more transparent, including recording and close captioning city council meetings, and requiring video recordings of all board and commission meetings.
I am passionate about providing opportunities for residents to participate in our government and the important decisions facing our community. We strive for fair and open hiring practices and diverse representation on all boards and commissions. We prioritized hiring a Diversity, Equity and Inclusion Director and have sought to train and diversity our staff. We have broadened our efforts to include more community members in decision-making by utilizing a co-design method for which we have received national recognition.
Access to affordable housing 
We must continue working to ensure that everyone in our community has access to safe and vibrant neighborhoods with affordable housing options. With my support, the city council continues to add affordable housing units across Rochester. In 2020, Rochester launched both night-time shelters and daytime programming for homeless individuals. Our work with the county has led to a partnership that includes developing a comprehensive approach to sheltering area homeless and a signed joint commitment to find or build supportive housing.
Economic stability for community members and businesses 
Helping local businesses meet their growing workforce needs and providing upward mobility for our residents remains a top priority. I led a team that helped Rochester win the prestigious Bloomberg Global Mayor Challenge. The $1M grant – awarded to only 15 cities worldwide and only three in the United States – will provide BIPOC women with access to specialized training required for high-demand jobs in construction and in other built environment-related fields. We also secured an additional $750,000 in federal funding to augment this effort, to stimulate entrepreneurship and business ownership in the long-term.
Environmentally sustainable and resilient city development and transit
The plan we developed/co-designed with community members is intended to support smart, sustainable growth and environmentally friendly construction practices in our city. The goal is to conserve resources, reduce energy costs, increase convenience and create a healthy environment. We transitioned to LED streetlights citywide; benchmarked over 100 buildings; added two new electric buses (with two more on order); focused on improved transit options that include street improvements targeting safe, active transportation; and committed to 100% renewable energy in 2030. We are working to develop recreation options and green spaces throughout our city that can be enjoyed by all.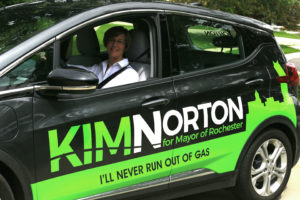 Destination Medical Center (DMC) 
This ambitious economic development and improvement plan for our city is a phenomenal opportunity to upgrade Rochester's physical, economic and cultural environment for all who live, work and visit here. As a state legislator for Rochester when the DMC initiative was first introduced, I worked diligently to ensure that local officials had the ultimate say in what happens in our community. That experience gave me a deep understanding of how critical this project is for our city and how to access the resources we need to get it done. I will continue working to ensure that the DMC project works for and benefits the people who live in this community. This effort will include addressing affordable/workforce housing needs, and increasing and improving community spaces.